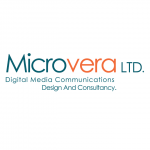 We are seeking a creative and talented Graphic Designer to join our group at Microvera; A full service digital marketing agency based in London. Reporting to the Design Manager, the graphic design work will be carried out solely through Skype on a daily basis; ranging from 6-8 hours per day. This is a long-term position so expect consistent work.
Qualifications
Must be available to work full-time
Must have an open mind

Proficiency in Adobe CS applications and MS Office

3-5 years of experience in advertising, branding and design

Good written & spoken English skills

Highly motivated, attentive and punctual

Ability to manage and complete projects from beginning to end

Ability to meet deadlines, maintain a positive attitude and remain flexible in a dynamic and fast-paced work environment

Proven organizational skills and an ability to multi-task efficiently

Flexible regarding changes in work environment and job requirements, with the ability to maintain a positive attitude under pressure
If you are interested in joining our team, please send your Portfolio (your former Graphic Design Work samples) including a working number to: hr@microvera.co.uk. Please note that this job offer is based on a limited-but-growing monthly budget. Monthly payments will be made exclusively through PayPal, and the interviews with selected candidates will be carried out through Skype. For more information, don't hesitate to contact us via email.
*Contracting Reference Booklet